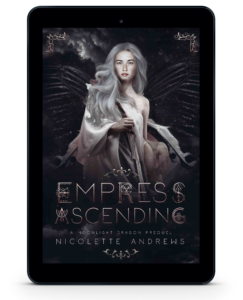 The emperor is dead, and the empress shall rise.
When the emperor is murdered, Eveline becomes Empress overnight. No woman has ever ruled the empire. And opposition mounts against her while forbidden magic seeps into through the cracks of the palace.
To bind her power, she must find allies and a husband to appease her counsel. Alexander is handsome, charming and a dangerous temptation. While she agrees to marry him to keep her crown, she swears to keep her heart locked away.
The empire teeters on the verge of civil war as monsters emerge from the dark to terrorize the capital. Eveline cannot win this battle alone. Can she open her heart to Alexander before it's too late, or will her distrust destroy the kingdom?
Get the prequel to the Moonlight Dragon Trilogy and be swept into a passionate and dark world of marriage of convenience, powerful women, and steamy romance…